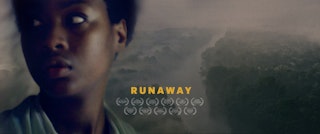 RUNAWAY
In 1740 Hudson Valley, New York, Sue, an enslaved woman on the Philipsburg plantation attempts to help two runaway slaves under the nose of a seething overseer, all while knowing her daughter is to be sold off the next day.
Filmed on the location at the preserved Manor house and farm, Runaway is a story of slavery in the north before the American Revolution with characters based on the real people of the Philipsburg Upper Mill. While largely fictional, it is a genuine illustration of the tragedies the enslaved faced during this period.
The project, developed in partnership with The Historic Hudson Valley, is an official selection for The San Francisco Black Film Festival, NY Shorts International Film Festival, and received an Indiefest Award of Excellence.
FILM PROJECTS
FILM PROJECTS