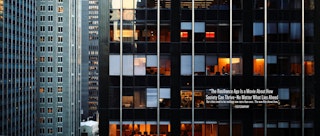 The Resilience Age
FILM PROJECTS
The Resilience Age
THE RESILIENCE AGE
In partnership with Columbia University, I won a notable grant from the Rockefeller Foundation to create a documentary film and media based curriculum for Resilience, one of their leading global initiatives.

Our goal was to create a media based program that would be implemented at "Resilience Camps", or workshops across the country to enlighten municipalities about the fundamentals of Resilience thinking. The Department of Housing and Urban Development was granting a billion dollars for Resilience-based initiatives to US cities and Rockefeller needed to educate community leadership to prepare them for making focussed proposals for funding. These would be pilot programs that would encourage a shift in thinking in the way cities plan, build, design, and legislate.
Our ambition was to create something that would live beyond the event and become a touchstone for Resilience thinking by telling a wide range of stories about the successes and failures of how communities respond to shock and stresses. Through this lens we could talk about all kinds of issues that they confront; from economic and social to environmental and man-made.
This was about rethinking how we run our cities. Designing them to bend without breaking, diversifying what we have so that when bad things happen, and we know they will, we can bounce back faster and with less negative impact.
The program was comprised of a detailed curriculum complimented by four short films, a feature documentary and a website that would become a hub of all things Resilience.
MORE ON THE PRODUCTION PROCESS AND 'ROUND THE WORLD SHOOT COMING SOON...
FILM PROJECTS
FILM PROJECTS